When fans from around the world donated that first dollar to help Josh to realize his dream of
starting The Josh Groban Foundation, who could have imagined the milestone that is approaching ...
and it is within our reach!

So, this post will officially launch a project that will work toward a common goal while celebrating
how far GFC/GFA and Grobanites Worldwide have already come. It is with great excitement
Team Race gives you the most famous words in fund-racing history ...
GROBANITES … START YOUR ENGINES!
Race to a MILLION
It's the …

In a letter to his fans on January 8, 2008 Josh said:


"I want to personally thank you as always for continuing, without fail, to find creative and
wonderful ways to raise money for places where a little bit goes such a long way.
You have single handedly raised almost 800,000 dollars since the start of JGF which is
phenomenal!! I think we can bring that up to the big 1 million in 08. I have so much faith
in all of you to make it happen and am so proud of what you've achieved already."
This project will help to get us to the
BIG 1 MILLION!
Race to a Million will help us to reach that goal through fun projects like the Spare Change Project,
The Per Te Cookbook, auctions, contests, and so much more! It will keep you current on active projects
that are running, highlight great items in the GFC store, introduce fun NEW LIMITED Race to a Million
items, and recap the history, compassion and generosity of Josh's fans worldwide that have contributed
to this monumental and moving event!
We will track and keep you informed on progress from donations as we move toward that amazing goal
of $1 million for Josh and The Josh Groban Foundation!
And so it is with great pleasure that we give you GFC's current and amazing total to date to show where
we start the race on the ALL-NEW Race to a Million Speedometer!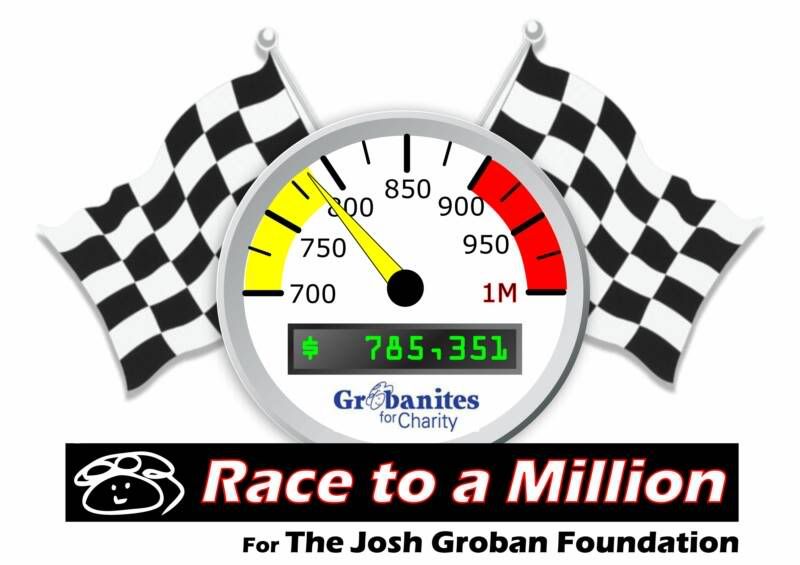 Stay tuned to this thread where we will track our progress, share ideas, keep each other motivated ...
and, of course, have fun! We will celebrate the journey and commemorate our history together! There is
so much fun in store! We wanted to give you a place to stay 'tuned in' ... with more being added
all the time.
So it is with great excitement and fanfare that the members of Team race ...
Welcome Race Fans to the
Grobanite International Speedway!
GFCracetoamillion.org

TEAM RACE
Cindy (Cingris)
Kelly (Blue Belle)
Sue (Sufin)
Joella (Joella)
Judy ( jbarbosa)

With a special
thank you
to Kelly for these amazing graphics and work on the website!
-------------------------------------------------------------------------------------------------------------
After almost 5 years since we started this effort to raise money for Josh's Foundation,
it's hard to believe that we are now approaching the million dollar mark!!
This milestone is only made possible due to the generosity of thousands of fans who
have donated their time, effort and money to hundreds of fundraisers over the years.
We all give so generously because we know that JGF donates to terrific causes that help
children in need, and we know that every penny is well spent. I hope that all of you feel
the same way I and the rest of the GFC Team do - that it's a true honor and privilege
to be part of something so special!

The GFC Team looks forward to crossing the "Million Dollar" line together with all
of you! What a great way to show the world yet again what great fans Josh has behind
him, and to show Josh how much we support his charity!

Thanks to the Race to a Million Team for planning a fun-filled and exciting race for
all of us! I've got my seatbelt buckled and I can already feel the wind in my hair!

Val
CEO, Grobanites for Charity


----------------------------------------------------------------------------------------------------------
As with any Race there are a few guidelines we need to follow (for fundraising):


You can donate via PayPal or check. (Note - Your check or credit card statement can serve as your tax receipt.
For any donations of $250 or more, you will be sent a tax receipt from Grobanites for Charity.)
Here are a few guidelines that MUST be followed:
1) As always, cash can not be collected or solicited by anyone for GFC/JGF. All donations for this project
must be made through PayPal or checks to GFC.
2) Please do NOT write to celebrities, radio stations, TV stations, or any media outlet to promote the fundraiser.
(This includes posting on their message boards.)
3) Please do not solicit donations at work or school, post or mail out fliers, or send mass emails to people
outside of the fan base. All fan fundraisers MUST be done within the fan club only.
We appreciate everyone's respect for these guidelines. If anyone has any questions at all about the project or
the guidelines, please write to
[email protected]
Thanks for your support! What a wonderful gift to Josh from his loving fans!
Now Grobanites …
START YOUR ENGINES!
IT'S THE RACE TO A MILLION
FOR THE JOSH GROBAN FOUNDATION!