I was one of 10 contest winners at the local radio station Warm 106.9 FM in Seattle, Washington for the Breakfast with Josh contest, and this is my story:
We got to the station at about 6:45am, and had to wait till 7:30 when they told us to meet in the lobby. When we went in the lobby, they checked our ID and gave us our VIP passes. While we were waiting we met up with a few of the local Grobies that decided to come by the station in hopes of meeting Josh afterwards.
We were supposed to go upstairs around 7:40am, but for some reason they didn't take us up till after 8:00, which was when the interview was supposed to have started. Their e-mail said that the 10 contest winners would be allowed in the room while Josh was interviewed and performed. They took the 10 of us into the area where the dj and Josh were on-air and told us to wait outside the booth. Then one of the 106.9 staffers came back and told us that instead we were going into the conference room where all of our guests were waiting and listening to the interview. Some kind of mix up between Josh's people and the radio station.
We got to listen to most of the interview and also him sing Awake. A few minutes after the interview was finished, Josh came in with Dennis. He said Good morning to us all and then saw the food they had put out for the continental breakfast and he yelled SUGAR!!! He was looking around at all the food they had set up and then he said, "I'm delighted to come have Bagels Bites with you".
He thanked us all for coming, and the radio people told him because of the small size of the room they would like for him to just go around the room to us to move it faster rather than him sitting and waiting on all of us.
When they got to me I stood up and said Hi and told him my name and shook hands. I told him that I was his first FOJG member, and his eyes got big and he said, "Oh WOW you're a celebrity!!" Everyone laughed. He asked if I had anything for him to sign, and I said yes, a photo that I took at the Seattle concert last year. As I was reaching for the photo to hand him, he looked down at my feet (why, I don't know) and said "COOL SHOES!!" I was wearing my tweed chucks. I laughed and said thanks and handed him the picture, and asked if he would be able to personalize the photo, and he said "SURE!" So he signed it for me. After he signed it he asked if I was at his 2nd ever concert, and I told him, that yes, I was there. He thanked me for being there. Then we posed for our photo, and Dennis took a picture. Then I asked if I could have a hug, since I knew if I didn't I'd get yelled at, and he said of course. So I got the best Josh hug!! His sweater was sooooo soft. (When I hug a person, I naturally rub my hand up and down their back....so unconsciously I did it to Josh too. I hope it didn't freak him out!) Then he moved on to the next person at the table. I continued to take pictures of him while he was signing things and posing for photos.

I realized I had forgotten to give him the card and squeaky toy for Sweeney that I had bought, so I waited till he was finished and then when he was coming back near the door to say his good-bye's, I said, "Josh…I have this for Sweeney" and handed him the card and toy. The card had a picture of Riley on it, and inside was a birthday greeting for Sweeney from Riley. He looked at the picture on the front and asked if it was my dog. I told him yes and that his name was Riley. He asked if it was a Wheaten, and I said yes. He said he was cute and that they have the most expressive faces. He read the inside and then looked at the squeak toy. It's a plush beer bottle…looks like a Corona bottle. He said "he'll like this." I told him that Riley has one and just loves it. He thanked me for them, handed them to Dennis, and then said his goodbye's, again thanking us all for coming, and then off he went!

The VIP pass for the event:



Photo I took at the August concert that he signed for me: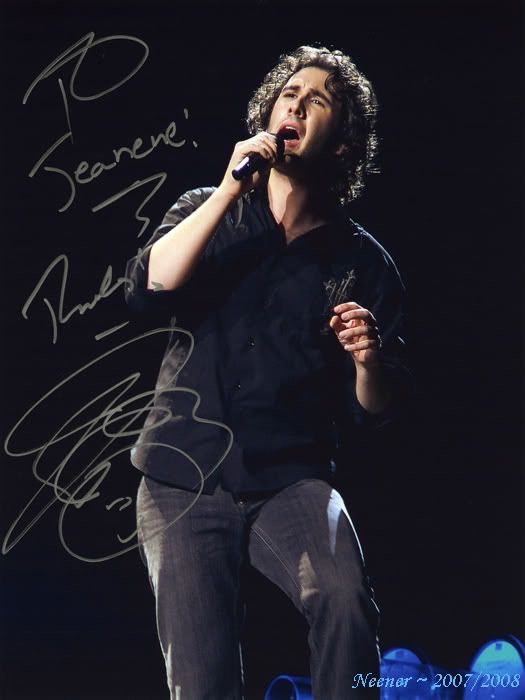 Josh with Suzy (my guest):




Josh & me:

And the hug!!