I make this thread since I dont' want to clutter up that big one, but I want u to see when I write a poem or a drawing, stuff I make that's inspired by u. I have "Siena's Stuff thread" and "Siena's Wallpaper thread", but this is so I can show to U directly...and I'll be so GLAD when we finally get deffinite apptmt written in stone so I can tell u and Elijah Wood so u can come see me...it's scary for me and I don't want to wake up in a bad place or something bad happen...but I just want u to come there, I know u appear in dreams u did once and I heard and saw u as clear as I see my screen, and u hugged me and i felt it, DON'T thk I'm weird PLZZZ!!! I'm unusual I'll concede that much, I collect airfilled creatures that u take in a swim pool w/ u and the stuff these creatures are made outta is called "Zanny", I don't know anyone else that does t hat but I do!!! Here is my drawing of U...plz don't hate me, but I will try again some day to make a better one!!

Today was the results of my competition yesterday, I won by 25 hundreths of a point agains the other girl, did good!! (My mom said so anyway) Anyway, now I make a thread where if anything changes or I have to tell u something I won't clutter up the big one...but when I am distressed I run to Michael, Frodo, Elijah or u, cuz I know u guys can figure it out and fix it!!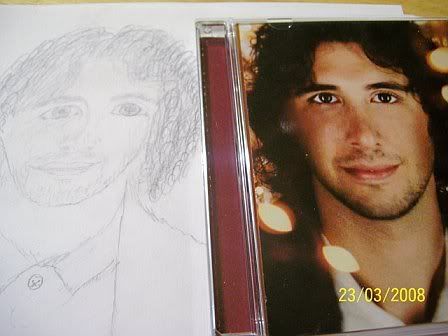 I collect these guys, they're made all out of Zanny, they're soft and huggable, and they love Michael, Frodo, and U!