Halo Angels!!! WildFlower started Josh's Angels a couple years ago and did a great job of getting the Angels organized. Sadly it seems that she has gone MIA…for at least now…and so I have decided to create this new home for us so we can become even better then we are already!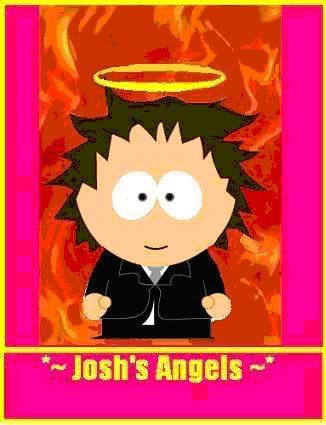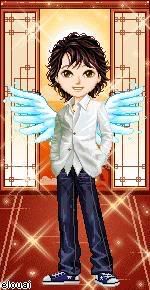 ** Behind Every Curly Haired Baritone is an army full of Grobanian Angels **... That is only true when you apply it to Josh Groban. Welcome Angels and thanks for reporting for duty. As one of Josh's Angels, your first duty is to come up with an angel name. It can be anything as long as it starts with 'Josh's Angel of_____________'. There is no sharing of angel names so be creative and have fun with it. When you come up with your angel name and post it, you will be an official angel. As one of Josh's Angels you will be a protector, crime fighter, and detective of all that is Josh. With our amazing martial art skills, tech skills, and sex appeal we are the Grobanian female/male version of James bond.






CREATE YOUR OWN ANGELS!!!!!!!

* Instructions

http://elouai.com/doll-makers/new-dollmaker.php#aligntop

---- Go to the link listed above, follow the instructions there and have fun making your Angel! Take your time and enjoy the process. If you aren't the angel making type…there is always someone willing to make one for you. After you have saved your angel…upload it to PHOTOBUCKET or some other hosting site and then place it in your siggy…and you are good to go!!!
Angel's Theme Song:

http://www.youtube.com/watch?v=UV6x3E-mxqc

"Fly to the Moon"-Michael W. Smith
Fly to the moon
Well, you could do it if you wanted to
Try flying high
The only limit is the endless sky
So, go on and fly to the moon

Live in the sun
You know your living has just begun
So much ahead
Don't let the night leave you for dead
So, come on, live in the sun

Fly to the moon
And when you find your wings I will celebrate with you
Watch you as you soar
Take the wishes that are yours
And let them fly you to the moon

Dream on a star
You can let it take you near or far
Feet on the ground
Don't let anybody hold you down
So, go on and dream on a star

Fly to the moon
And when you find your wings
I will celebrate with you
Watch you as you soar
Take the wishes that are yours
I know you can fly to the moon
You can do all things
I will celebrate with you
It's hard to let you go
Still, you have to go,
I know

So go on, fly to the moon
And as you spread your wings
I will celebrate with you
Hope we taught you good
Hope you know that if I could
I would fly away with you

Gotta take it all the way
When you follow dreams
Follow far
Flying high and away
You're flying all the way
To the moon
-------------------------------------------------------------
Ah, Angels! Sweet and dear
Close to home or
far from here,
Gather all in one regard
Fighting darkness, battle-scarred;
Our purpose clear, our minds resolved-
We leave no mystery unsolved;
Angels fighting for a cause!
I give you my unfeigned applause!
~Hannah (PoetsHaveEyes)
On August 4th, 2007----Josh discovered his Angels!!!
The Angel book….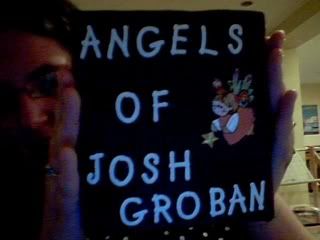 The Angel T-shirt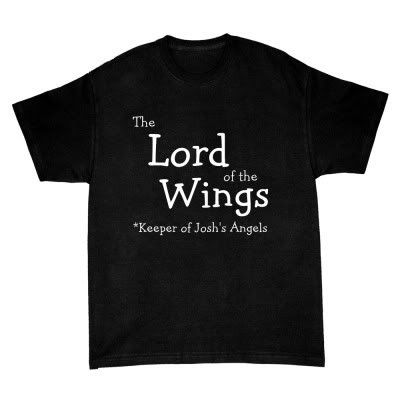 If you would like an Angel t-shirt just pm me and I will give you all the details.
The List of Angel names will be updated often so if you want to become an Angel of Josh Groban just check the list and if the name you want isn't listed then you have yourself a name.
….Protect Josh with all your heart, all your strength, and your entire mind….
Caleigh
Co-Head Angel