Josh Groban: Glee Is for Theater Geeks - Like Me
People: TV Watch
October 23, 2009
By Eunice Oh & Susan Young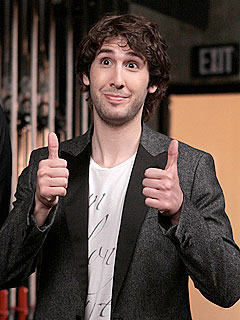 It's not exactly his genre of music, but Josh Groban says going back to school - at least fictionally - for a cameo on Glee "was a thrill."
"It was so much fun," the singer, 28, told PEOPLE Thursday night at the ONEXONE Fundraiser at Bimbo's 365 Club in San Francisco. "There are so many great theater actors on that TV show … it's really made for theater geeks. I was in choir when I was a kid, so it really felt comfortable for me to be there."
When producers approached him for the role, "I asked them to make me a jerk," says Groban, whose Sept. 16 cameo on the Fox show included this line: "Throngs of screaming teenage girls don't do it for Josh Groban, no. Josh Groban loves a blowsy alcoholic."
The role was a departure for the sensitive singer, who describes himself in real life as a "vanilla guy."
Added Groban, "Really, [could] they [have made] me any creepier?"