Mandela Day Fundraiser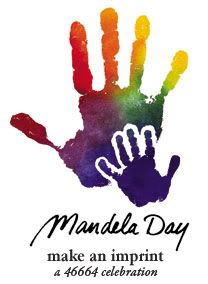 As you know, Josh is an Ambassador for Nelson Mandela's 46664 project. This campaign, which bears Mr. Mandela's Robben Island prison number, was originally launched to raise awareness about HIV/AIDS. Working alongside the other Mandela organizations, it is now expanding its focus to champion Mr. Mandela's broader humanitarian work. A centerpiece of 46664's activities will be the celebration of Mandela Day each year.
Mandela Day is a global call to action for people to recognize their individual power to make an imprint and change the world around them. A global movement for positive change begins with small actions. The hope is to inspire people to embrace Mr. Mandela's values and make an imprint through service to their communities by finding opportunities that address social issues such as human rights and civil liberties, hunger and poverty, education and literacy, health issues and medicine, environment, ecology and energy conservation, and social enterprise and economic development. This could mean any number of volunteer activities in your community, including feeding the homeless, being a big brother/sister, or visiting someone who is sick.
To support Josh's involvement as an Ambassador, Grobanites for Africa is holding a fundraiser with incentive prizes that will run from July 1 to July 18 (Mr. Mandela's birthday). For each $10 donation, your name will be entered into a drawing for the prize package shown below. Proceeds will go to the Josh Groban Foundation for projects with children in Africa.
The following package will be offered:
Reduced: 80% of original size [ 800 x 600 ] - Click to view full image
Reduced: 80% of original size [ 800 x 600 ] - Click to view full image
Reduced: 80% of original size [ 800 x 600 ] - Click to view full image
Reduced: 80% of original size [ 800 x 600 ] - Click to view full image
Donations can be made through the GFA website at: www.grobanitesforafrica.org or through the GFC website at: www.grobanitesforcharity.org PLEASE BE SURE TO SPECIFY IN THE COMMENT SECTION THAT YOUR DONATION IS FOR THE GFA MANDELA DAY FUNDRAISER.
Contributions may also be made by check, but all checks must be received by 7/18/09 to be eligible for the drawing. Mail checks to:
GFC, Inc.
P.O. Box 52828
Riverside, CA 92517-52828
In addition, the Race to a Million team will be posting a thread with a fun way to show your involvement in your community, which translates to your support for Josh.
Thanks to Deb Hollingsworth for the mouse pad that she got Josh to sign at the Hollywood Bowl and for the poster from Mandela's 90th Birthday Celebration using Margaret Rose (MargaretRose 27) and Kimberly's (Kimberly27) pictures. Nelson Mandela's autobiography signed by Angelique Kidjo at the Hollywood Bowl.